Here are some celebrities that are awesome because of one reason: they own pug(s) dogs.
Jessica Alba has two pugs, Sid and Nancy.
Kelly Osbourne with her pug, Prudence.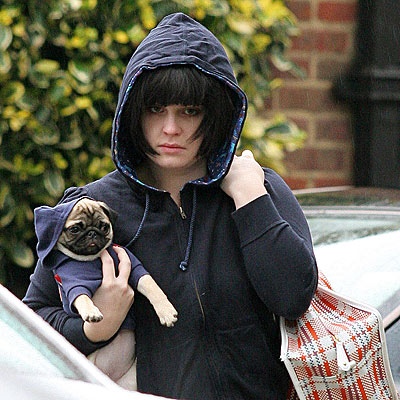 Tori Spelling with her pug, Mimi La Rue, and her family. I love her.
Jenna Elfman has two pugs, Guinevere and Willy.
Paula Abdul is crazy, but has a cute pug, Puggy Sue.
Valentino has SIX pugs. This man is amazing. He travels with all of his pugs and has even named one of his lines after his dogs.
Ted Danson has a pug.
Chris Kirkpatrick has two pugs, Busta and Korea.
Nick Carter (LOL) from Backstreet Boys has two pugs.
Denise Richards has a pug, who is famous for his appearance on The Dog Whisperer.
Eva Longoria is now the new mom of a precious black puppy. She just got the puppy four days ago.
Brooke Mueller (Charlie Sheen's fiancee) has two pugs. And on another note, I would love this carrier.
Gerard Butler has a pug, Lolita.
Debra Messing with her pug on Rodeo Drive.
Also: Tommy Hilfiger, Billy Joel, Mickey Rourke (also crazy), Rob Zombie
My level of lame has JUST now increased.